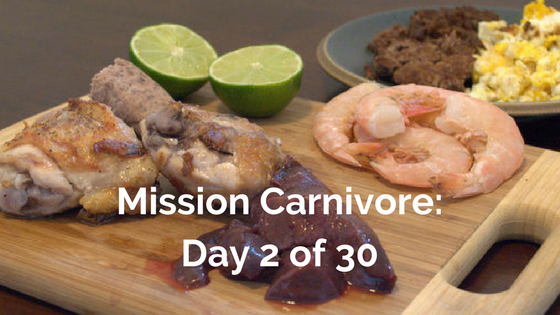 Today is Day 2 of 30 of Mission Carnivore. I have some interesting observations after just one full day on the plan that I will address below.
When I woke up this morning I realized that I felt amazing. In fact, it is the most awake I've felt during the morning time in a lot of months. I went to the gym for some cardio and afterwards I could see just how much additional energy I already have. I tend to react quickly to things, so this is no surprise to me. I know my body well enough to immediately feel the changes happening. It is exciting that the carnivore diet somehow brings extra energy. My macros were crazy yesterday (see "Stats" section below). I ate some string cheese (allowed) and it added a tiny amount of carbs to the diet, but it is negligible. It amounted to about 5 calories when rounded up. I'm good with that.
Let's see how tonight goes. Yesterday I got through the evening cravings rather easily. I am hoping it doesn't get more intense.
I am carefully monitoring my blood pressure while on the carnivore diet. I know that going low carb tends to bring my blood pressure down. I am hoping that this does a good enough job that I can start down the path of weaning off the blood pressure medicine I've been taking. I will have to discuss that aspect with my doctor when the time comes, but it is definitely a goal of mine.
I attended a campaign event this evening and still stuck to my water and no carbs. That was a big victory because usually when I am nervous I mess up and I held strong. Day 2 is in the books and I'm feeling as though momentum is building towards something amazing!
Stats
Weight
Today
Yesterday
Difference
 264.2 lbs
266.8 lbs
-2.6 lbs
My macros yesterday were:
Protein – 39.1%
Carbs – 0.3%
Fat – 60.7%
Total Calories: 1588
Blood Pressure: 129/80
Amazingly, dropping almost 3 pounds wasn't what I expected. I also am aware that this is water weight. I am interested in seeing what will happen going forward.
What I Ate and Drank
| | |
| --- | --- |
| Time | Food/Drink |
|  6 am | 44 ounces of water. 1 tablespoon of Real Salt. |
|  8:30 am | 3 eggs and 2 ounces of shredded cheese. Coffee with 1 tablespoon of Kerry Gold Unsalted Butter with 1 tablespoon of MCT Oil. |
|  12:30 pm | 8 ounces of ground beef. 2 slices cheese. |
|  4:30 pm | 8 ounces of ground beef. |
|  7:30pm | 8 ounces of ground beef |
Training
I got in 30 minutes of cardio today. I approached it slowly. I warmed up by walking for 5 minutes. I then executed HIIT style cardio by doing 45 seconds full tilt and then 1:15 walking. I repeated this 6 times. I finished with 13 minutes of walking. I sweat like crazy and it felt GREAT to be hitting the treadmill hard.