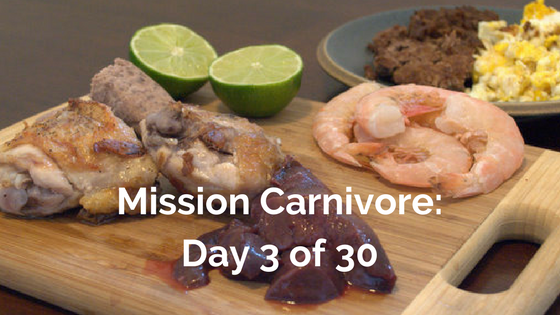 Today is Day 3 of 30 of Mission Carnivore. I am surprised at how easy this eating process is. I have had zero issues so far with eating just meat.
Today I feel very energetic. I noted that last night I was able to stay awake until I chose to go to bed and that hasn't been the case for a very long time. I usually wind up crashing out at some point during the evening.  I also did my first weight training session while on this diet and I see no difference in strength yet. I suppose that is a good thing, but I am also expecting an increase in strength based upon some reliable testimonials I've seen.
Thus far I am having no issues with this program as I head towards the end of the first week. I am almost 25% of the way through this experiment.
Stats
Weight
Today
Yesterday
Difference
 261.0 lbs
264.2 lbs
-3.2 lbs
My macros yesterday were:
Protein – 42%
Carbs – 0%
Fat – 58%
Total Calories: 1364
Blood Pressure: 124/80
Amazingly, dropping another 3 pounds wasn't what I expected.
What I Ate and Drank
| | |
| --- | --- |
| Time | Food/Drink |
|  6 am | 44 ounces of water. 1 tablespoon of Real Salt. |
|  8:30 am | 3 eggs and 2 ounces of shredded cheese. Coffee with 1 tablespoon of Kerry Gold Unsalted Butter with 1 tablespoon of MCT Oil. |
|  12:30 pm | 1 lb of beef brisket |
|  4:30 pm | 8 ounces of ground beef |
|  7:30pm | 2 eggs and 2 ounces of shredded cheese |
Training
| | |
| --- | --- |
| Exercise | Weight x Reps |
| Squat | 250 x 16 |
| DB Pullover | 65 x 12 |
| Leg Press | 450 x 15 |
| Flat DB Press | 65 x 12 |
| Machine Wide Rows | 80 x 14 |
| Standing OHP | 125 x 12 |
| Assisted Pullups | (100) x 15 |
| Triceps Pushdown | 80 x 15 |
| EZ Bar Preacher Curls | 65 x 13 |
| Seated Leg Curl | 80 x 25 |
| Seated Calf Raise | 90 x 17 |
| Deadlift | 300 x 9 |
| Kneeling Cable Crunch | 80 x 12 |